"I very much enjoyed your book 'Tapestry of Light' ."
H.S., Artist.
"I read 'Tapestry of Light' on my flight to Washington, D.C. - I was stunned!
I proceeded to read 'Breath of the Cosmos' the day after I got back.
'Tapestry' deserves a Nobel prize in physics and 'Breath' a Nobel prize in literature.
Your energy flow paradigm makes total sense to me. As you show, it explains all of Einstein's findings but also explains the arrow of time.
A truly seminal book!"
Lloyd Morgan, Director, Central Brain Tumor Registry of the United States.
Of a multimedia presentation:
"I just want to say a BIG, BIG thank you for your magnificent 'performance' last night!
It was truly inspirational and a wonderful kick off to the whole evening. You are definitely a communicator!"
Sue Minns., Author
Check out the blog.
Here you'll find everything from the Marx Brothers to singing bowls, from grass-hoppers to goldfish - and much, much more - all in the name of science.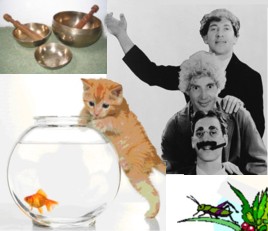 "The perfect balance of new science, humour & helpful info that people can relate to in their lives", "I am impressed! I found it easy to read, not boring at all! very interesting and have subscribed for more!", "clear and precise, easy to read and acutely interesting. I like the user-friendly presentation. I have subscribed!"
Subscribe free for notifications of new postings.
Tapestry of Light
Tomorrow's science, here now
Matter is "frozen light" - Professor David Bohm, 1986 ["My intellectual successor" - Einstein]
Matter IS composed of light - PROVED (beyond reasonable doubt) by Dr Grahame Blackwell, 2006
Starting from well-established findings on matter and energy accepted universally by the scientific community, Dr Blackwell has developed a solid foundation for the notion that matter consists of light*. His in-depth analysis includes derivation, from a totally novel perspective, of all of the experimentally verified findings of Special Relativity. Interpretation of some of these findings from this new standpoint opens up exciting new possibilities for scientific research and development.
It's long been believed by many that matter is formed from light, but this is the first time that this belief has been put on a firm scientific footing. The implications of this discovery, both for science and for humanity as a whole, are very far-reaching.
The basis of this exciting breakthrough is laid out in an easily readable step-by-step format, in the book 'Tapestry of Light'.

Although this analysis is essentially mathematical at heart, great care has been taken to present these findings in a way that needs no maths skills to understand them. It was considered important that this discovery should be fully accessible to readers from all backgrounds, technical or non-technical. [See details of book]

The supporting maths have been published in a companion volume: 'Behind the Tapestry: The Threads Revealed' - see here for details.

Further books are under preparation on:

Gravity, electric charge, curvature of space

Perception, mind, consciousness, objective reality

A flowing, poetic-style (many say 'inspirational') book embracing all of these concepts, generously illustrated with full-page colour photographs and graphic effects, is also available entitled 'Breath of the Cosmos' (by the same author) - click here for details.

Buy this book AND Breath of the Cosmos

Click on cover to see sample text

Click on cover to see sample text
* The term 'light' here is intended to include frequencies not visible to the human eye.